---
Anyells Official 4 x Magic Ice Scrapers
Want To Get Rid Of Ice On Your Windshield Quickly?
An icy windshield can be frustrating when you are in a rush to leave your home or office, without a proper tool you'll spend a long time trying to get the ice off your windshield. With our Magical Car Ice Scraper you'll be able to quickly and smoothly get rid of any unwanted ice and snow from your cars windshield and windows.
The Magical Car Ice Scraper is designed to scrap and remove snow in seconds so you can leave without the worry of snow interfering with your driving vision. Simply move the Magical Car Ice Scraper in any direction and it will magically remove all the ice in one smooth swipe.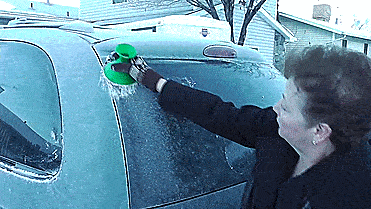 You can a
lso use the Magical Car Ice Scraper as a funnel to fill up oil or water in your car, it doubles as a 2 in 1 tool for you car any time of year, so it's always handy to have one of our Magical Car Ice Scraper in your car.
Features:
IN SECONDS:

 

You'll have the Magical Car Ice Scraper work it's magic by simply moving it in any direction to scrape off the ice 
EASY TO HOLD:

 

The shape of the Magical Car Ice Scraper is designed for a strong grip and quick use without the need to set up anything, just simply pull out of your car and start scraping 
LIGHTWEIGHT AND COMPACT:

 

The Magical Car Ice Scraper is super lightweight, it weighs 45g and is easily stored in any pocket in your car without taking up any room
2 IN 1:

 

The Magical Car Ice Scraper is easily used as a funnel for oil or water into your car, use the Magical Car Ice Scraper all year round
PROTECTED:

 

The Magical Car Ice Scraper is made from soft plastic and will not scratch or damage any of your windows or glass
Color: Blue, Red, Black, Green

Weight: 45g

Material: Plastic
Package Includes:
4 x Magical Car Ice Scraper