Anyells 80pc Make Up And Vanity Box Set
-
THE PERFECT GIFT FOR YOURSELF OR FOR THAT SPECIAL GIRL IN YOUR LIFE!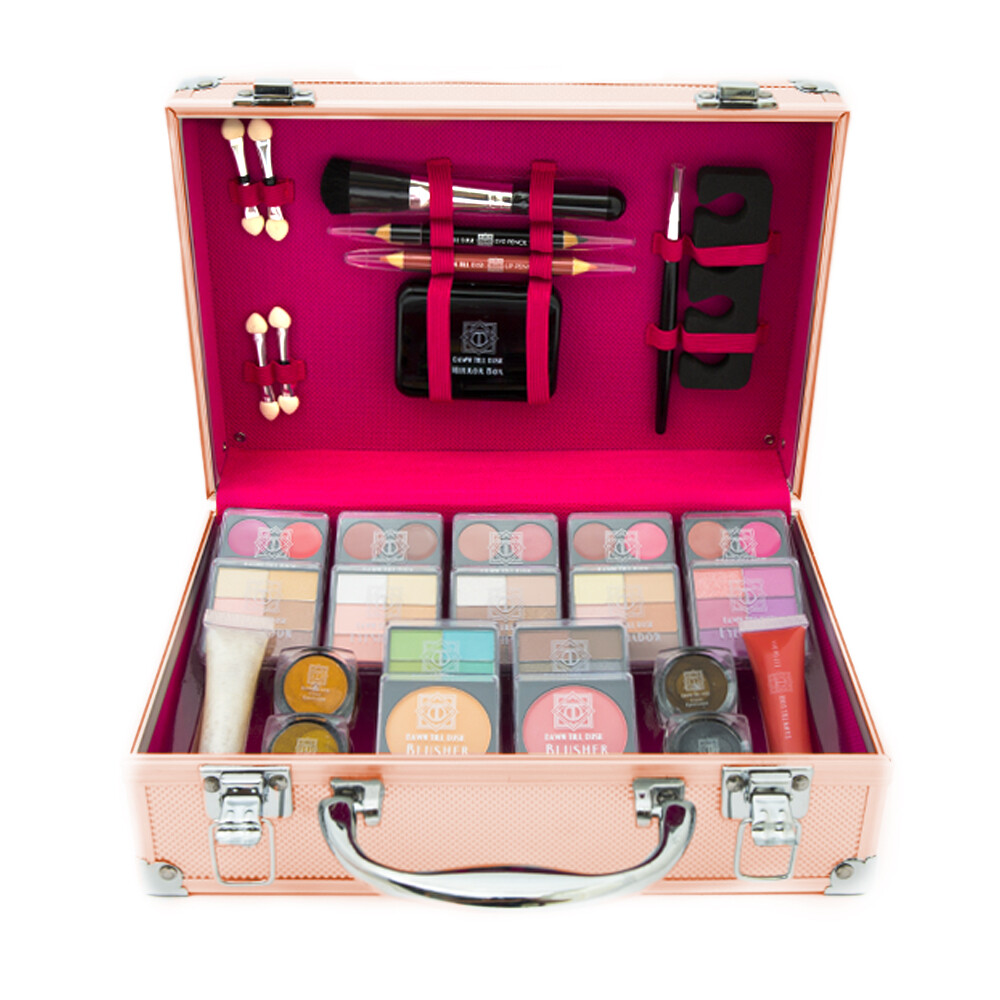 High Quality Product, Stylish Design and Great Price. This vanity case and all its 80 beauty items inside are perfect for professional, at-home or on-the-go use. Its spacious compartment can fit every girl beauty essentials. The chrome fixtures and fittings add to sleek and stylish look, plus the benefit of the sturdy outer metal material which will keep all of your goodies well protected.
This Dawn Till Dusk 80pc make up set is supplied in a Rose Gold coloured vanity case. People always talk about finding the perfect look, but for many, there is never just one style that suits you; whether you prefer to tailor your make-up to suit an event, what you're wearing, or simply going wherever the mood takes you, there's always practically limitless opportunities for you experiment with bold new looks.
The set includes 7 eye shadows (42 individual colours), 5 lip balms (20 individual colours), 4 cream eyeshadows, 2 blushers, 2 lip gloss, 1 blush brush, 1 x foam cushion toe separator, 2 double end pencils, 1 lip balm applicator, 4 small double ended brush applicators, 1 convenient compact with mirror (able to hold 1 eyeshadow pallet, 1 blusher or 1 lip balm pallet), 1 Rose Gold coloured case.
Dimensions: 26.5 x 20.5 x 10.5cm
The ultimate combination of elegance and convenience
With the wide range of shades and styles
Perfect cosmetic travel companion
An ideal gift for the cosmetic fan
INNOVATIVE DESIGN: To have all of your cosmetic essentials with you, wherever you go, look no further than this Deluxe Cosmetic Case! With an innovative design

SET CONTAINS: This set includes 80 pieces of makeup, in shades and styles that are sure to suit anyone's tastes! All women's essentials in one elegant box

EVERYTHING YOU NEED: Whether you prefer to go for a more natural look of subtle and softer shades, or like to experiment with something a bit more bold and daring, this set will have whatever you need!

FOR COSMETICS FANS: This set is more than just a great opportunity for new and experienced cosmetics fans alike to enjoy their favourite styles

PACKAGING: Packaged securely in a sleek and stylish case, this set is the perfect thing for travel, allowing you to enjoy holidays, long journey's and more, Perfect cosmetic travel companion