---
Anyells 7 Colour Rejuvenating LED Anti Wrinkle Face Mask
.
(Please note that this item is the mask only and not the neck piece attached) 
.
Anyells Therapy LED Facial Mask Transforms Your Skin in a Way That Creams and Serums Never Can!
.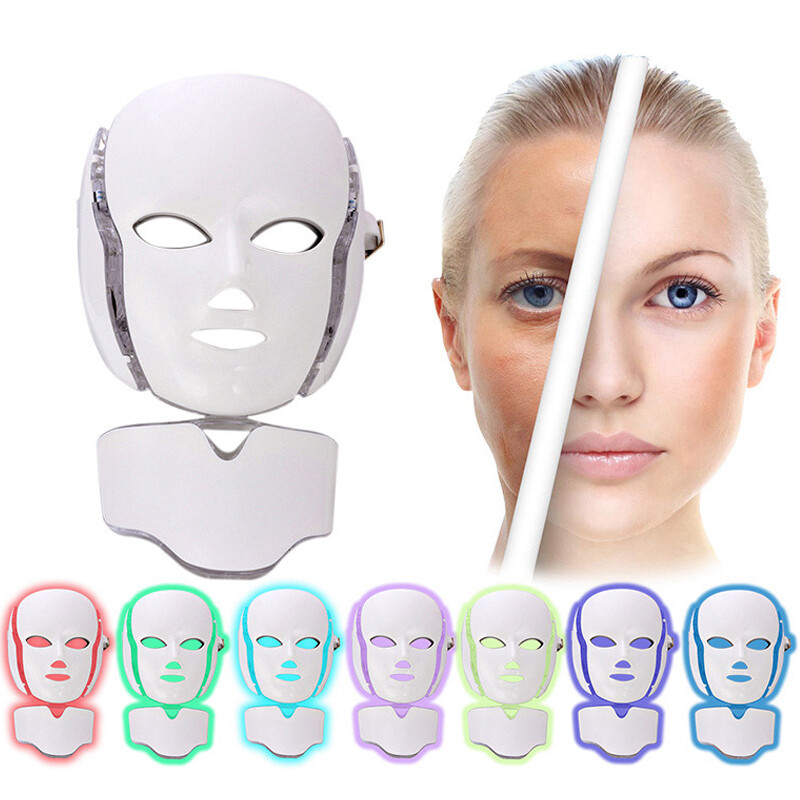 How many different creams and serums have you bought and tried for plumper, smoother skin? How many of them actually worked? Creams and serums can only penetrate the first couple of top skin layers, and therefore are unable to make much of an impact.
.
See Results in as Little as 2 Weeks!
Even if you don't have any specific problems with your skin, light is an essential tool to have in your skincare arsenal. Look after your skin today so you don't need to rectify damage later on in life. The different LED light wavelengths have fantastic plumping, cleansing and perfecting effects that will give you your most beautiful complexion ever! Add this mask to your skincare routine to see a massive difference in the health of your skin in only 2 weeks of treatment.
.
Anyells Mask is the latest generation in wearable anti-ageing and complexion improving technology. Using LED light therapy to create softer, clearer skin. Safely penetrating deep into your skin's layers, zapping away impurities and increasing cell activity and collagen production. Addressing problems at the source for lasting results.
.
Each colour of light used by the Anyell Mask has a different wavelength, reaching a different layer of the skin. Meaning it can be used to treat a number of dermatological conditions. Plus, The mask boasts 120 lights for full coverage light therapy!
Safe and Effective on Even Sensitive Skin
.
.
One of the best things about using LED light therapy is that there are zero negative effects to anyone! Suitable for all skin types, especially sensitive skin. Most face creams contain chemicals that may help with one skin condition and aggravate another. Putting you in a cycle of purchasing products that never help.
,
Because LED therapy uses light alone, it is always kind to skin. Just one of the reasons why it is a must have for Victoria Beckham.
.
.
Treat Wrinkles, Scars, Acne, Rosacea and Sun Damage at the Same Time
The mask emits three different coloured LED lights evenly over the full area of your face; red, green and blue. Wondering how a light can make a difference to your skin?
.
Heal Sun Damaged Skin with Combination LED Light Therapy
As well as using the lights individually to focus in on the issues that concern you, use all three coloured LED lights of your mask to help your skin build new healthy cells to soothe and heal
sun damaged skin
. See a reduction in wrinkles and age spots, reversing the damage the sun has done over the years.
.
Celebrities Love LED Light Therapy!
LED Light therapy is loved by celebrities such as the ever-youthful Jessica Alba and Kate Hudson, both of whom have shared pictures on their Instagram feeds wearing their LED light therapy masks. And have you ever wondered how the perfectly turned out Victoria Beckham keeps her skin looking so beautifully smooth and youthful? Well, she also loves light therapy! Mrs. Beckham famously suffered with her skin and used to use thick makeup to conceal her skin imperfections, but not anymore!
.
.
LED light therapy was once only available in high-end salons as a closely guarded secret by some of the most famous celebs around the world, including the Kardashian's. The mask gives you the high-quality treatment for a fraction of the price. And all in the comfort and convenience of your own home.
.
Perfect Your Skin with Just 15 Minutes of Relaxing Treatment a Day!
Featuring 10 intensity levels and an automatic timer that can be set for anywhere from 5 - 50 minutes. You choose how long you want to pamper yourself for.
Choose to use just one kind of light, or to cycle through all three for a comprehensive skincare treatment.
.
We recommend that for the first two weeks of treatment you use your desired setting for 15 – 20 minutes a day. After this you will see huge changes in the condition of your skin. After this time you can reduce your regime to 1 – 2 maintenance treatments a week and still get the same fabulous results.