Anyells 51pc Make Up And Vanity Box Set
THE PERFECT MAKE UP BOX SET FOR YOURSELF OR THE PERFECT GIFT FOR HER!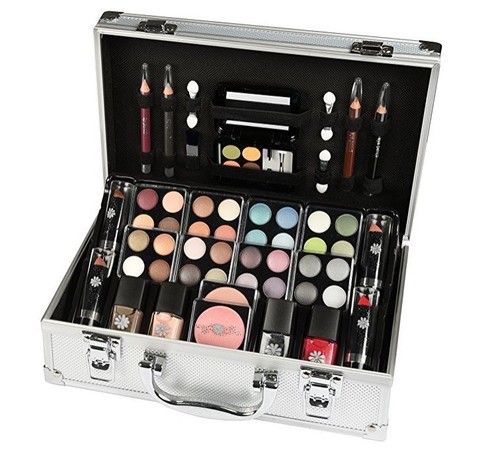 This set comes presented in a stylish and sturdy vanity case, that not only makes this set ideal for giving you a great new look, but also for taking this set with you wherever you go, from holidays, long trips, or simply on a weekend away. The brushes are specially designed to give you a precise and tailored look, allowing for you to add just the right layer of definition to perfect your image.
With this 51 Piece Cosmetic Set, you can rest easy knowing that all of your make-up needs are solved. With an astounding range of cosmetics, this set has enough to suit anyone's tastes, whether you prefer your cosmetics to simply accentuate the subtleties of your natural beauty, or to dazzle and astound passers-by with alluring and electrifying new looks.
With the included tools and cosmetic items, this set will give you everything you need to adjust your look to the highest possible standard, as well as adding just the right level of definition, for a precise, tailored look. So whatever you're looking for, whether at home or away, this fantastic case is just the thing for solving all of your cosmetic needs!
Contents:
32 Eyeshadows

4 Lipsticks

4 Nail Varnishes

2 Blushers

3 Eyeliners

1 Lipliner Pencil

3 Double Ended Applicators

1 Blusher Brush

1 Compact with Mirror